Living in London
When I and my friend arrived at Stansted airport in January 2005 we had no idea where to go or what to do. We heard that London was a place full of opportunities, but also a place full of dangers and annoyances.
After some good and bad advice from the staff at the information desk at the airport we checked in at a dodgy but dirt cheap tourist hotel at Piccadilly Circus in central London. We were a bit suspicious because the price was so low, and of course the hotel had its drawbacks. A big dead smelly rat under the bed and no hot water in the shower was some of the surprises.
A few days later we had moved in to a room in the hideous area of Turnpike Lane in northern London. To my surprise, we stayed in the cold house with the chain smoking death metal partying polish people for two weeks. And after a short visit at a house full of mad ecstacy Australians in Fulham we finally moved in to the more "posh" area of Pimlico, central London – not far from the Westminster Abbey. Although the area in general is upmarket there is one street which is not nice at all. Page street, where we lived. The flat was shared with two other couples from Poland and France and we had to share the bathroom and the tiny kitchen. The neighbouring lady (a.k.a the parrot) were shouting and fighting with her kids and husband 24/7. The good things were that we had our own fridge and Sky-TV in our room, and free internet connection (low signal – you had to place your laptop outside the window).
The first three months during our stay in London we studied so called "advanced English" in a school for foreigners in Bloomsbury. For a native English speaker I'm pretty sure that the English course wouldn't have been very difficult, but for us it was quite advanced, and for the Japanese and South American students, it felt to me like they had a hard time. In this school I connected with many new friends from all around the globe, and some of them I still keep in touch with.
The school charged us quite a high amount of money so now it was time to find at least a part-time job somewhere. Like many other Swedes in London, my friend started to serve beer at a pub. For me it was a bit harder to find a job but in the end I was employed at a travel agency in Farringdon, becoming an "E-commerce Manager" of Scandinavia and got paid off quite well. I was responsible for the Swedish, Finnish and Norwegian markets. Sometimes I had to work and exhibit the company at fairs in London, Berlin and Madrid, and that was great fun.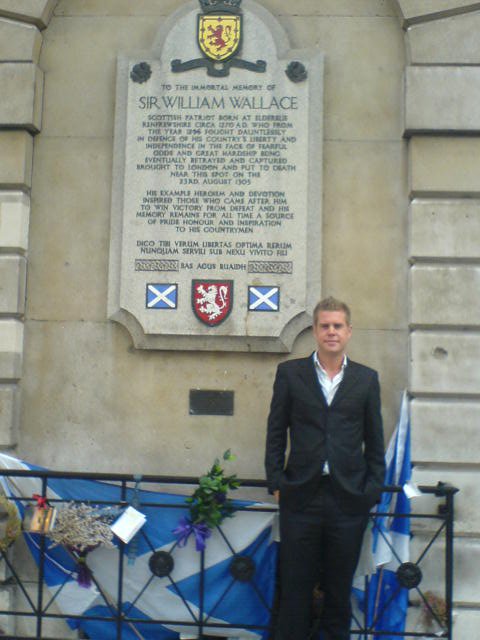 When you start working in London you will probably visit the pub at least once a day. We went nearly every day to the pub for a lunch and a pint, and a pint after work. Social life in London is very different from that in Sweden. People are loud, laughing a lot and are in general very approachable. Drinking is a problem in England though, and I have to admit that I drank too much as well. Its fun at the pub, but it's not that fun to have a big beer-belly.
Social life in London includes a lot more than visiting the pubs. Every week I went to the cinema, to a museum or an art gallery. Well, I didn't go for a ride in The Eye and I didn't visit Tussaud's, however In London you can be a tourist even though you live there. In Islington, where I rented my first room by my own, I had a landlady who said she moved in to London 20 years ago, and she was still visiting and exploring new London areas in the weekends.
In my opinion the best parts of London are all the parks and heaths. Richmond park with its population of deer's, Regents Park with its ponds and birds like the stork. Hyde Park with speaker's corner, the serpentine, jugglers, roller-skaters etc, Hampstead Heath with its hills, offering a stunning view over London. And not to forget, tiny St James's park with all tourists, squirrels and pelicans. You see, I could go on forever!
The markets in London are just incredible. Go shoe shopping in crazy Camden Market; go obese in Borough food market or just shop till you drop of everything you can or cannot imagine in Spitalfield market.
As London is a megacity that never sleeps and is a mixture of people from all around the world, strange and sometimes bad things happens. On July the 7th in the year of 2005, 52 people were killed and many more injured in three synchronized suicide bombings in the tube and on a bus. My Oyster Travel Card expired the same day and I was trying to save some money, so I took a walk to the office that day. Otherwise I had travelled by underground – the picadilly line, changed train in King's Cross and maybe I had been on that train which they blew up there. I was lucky to survive, but after the terrorist attack I have to admit that I sometimes got off the train as soon as possible when I saw a Muslim with a beard and a bag in the same car as me. The terrorist succeeded, at least for a while, to grip the Londoners with fear of their own buses, trains and other crowded places.
I really love and hate London. I love to meet people from all around the world, I love the wide range of restaurants and pubs and entertainment. I hate the poor standard of living, (i.e. paying 800 GBP per month for a room without windows in a shared flat).
After I moved back to Sweden I have only visited London once, and at that time I felt that I don't want to live there again, but I will surely visit this crazy bustling town (a.k.a. "the rat race") many times in the future.

Fredrik Olsson
kontakt@freddyolsson.se